I drive my kids every day. A quiet residential area spreads out around the station. This street mostly runs into a residential area that doesn't have much traffic.
The law has been changed today.
I'm scared of driving in places that I don't know. To protect ourselves from a runaway car, we bought a drive recorder.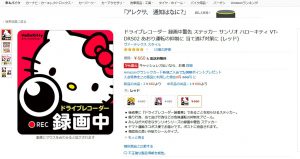 My daughter loves Hello Kitty. She'll definitely like this sticker.
 
As for my husband,
"Well… I don't like it… This sort of thing is not my cup of tea."